Cellulose Insulation in The Midlands, South Carolina
See how cellulose insulation performs better than fiberglass insulation.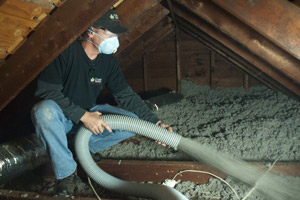 An alternative to fiberglass, Tru-Soft cellulose is a green, efficient, solution that's worth considering.
If you are looking for a quick, easy solution to reduce your heating and cooling costs, there is no better, faster way to achieve this than properly insulating and air sealing your home; however, it's important to remember that not all insulation is created equal.
Dr. Energy Saver offers cellulose insulation services throughout South Carolina and The Midlands, including Mount Pleasant, Charleston, Simpsonville, Lexington, Columbia, Summerville, Chapin, Aiken, North Augusta, Greenville, Spartanburg, Florence, Sumter, Greenwood, and more!
Not all "green" insulation products are created equal
Tru-Soft™ cellulose insulation is the most environmentally-friendly product in the insulation industry. Houses insulated with this "super-green" material typically require between 15 to 30 percent less energy to heat and cool the space than homes insulated with fiberglass batts. If you live in an area with a community-based recycling program, then it's possible that the newspaper that you read last month has now become insulation in someone's home. Cellulose insulation is made of 85 percent recycled paper products, which reduces greenhouse gases by preventing the paper from ending up in landfills.
Building insulation in general is considered "green," because it helps cut down on wasted energy, reduces the amount of fossil fuel that is burned and decreases harmful carbon emissions.
The energy-saving properties of cellulose begin from the time the product is manufactured. It takes less energy to make cellulose than any other type of insulation. Manufacturing fiberglass for a home consumes six times more energy than manufacturing cellulose to insulate the same home at the same R-value. The reclaimed paper, like the kind that comes from your home or office, is collected and processed in a grinding machine that then produces a fluffy, lightweight material. Even better, the cellulose has an insulation value as high as R-4 per inch – that's a lot of heat flow resistance!
Additives make paper-based insulation resistant to fire, insects and mold
Cellulose does not contain dangerous substances commonly found in building materials, including formaldehyde, volatile organic compounds, and glass fibers.
Despite being made of paper, the belief that cellulose insulation is flammable is false. The building insulation has a Class 1 (the highest) fire safety rating and is approved by all building codes. The cellulose is treated with a borate solution that makes the fibers not only fire resistant, but will also repel insects and mold.
Don't just settle – choose the Tru-Soft cellulose insulation that meets your needs
All Tru-Soft cellulose insulation is "green" and all will make it easier to heat and cool your home and reduce energy bills, but when it comes to your unique space, some will do the job better than others.
The first type, referred to as loose-fill or blown cellulose, is typically used to insulate attics. One installer uses blowing equipment to supply shredded cellulose through a long hose to another installer in the attic space who will apply the insulation.
Just as not all insulation is created equal, not all spaces are created equal. Some places in your home, like wall cavities and other enclosed spaces, require an insulation technique known as dense-pack cellulose. Insulation installers begin the process by drilling two-inch-diameter access holes into the cavities. They then apply the insulation by inserting a small application nozzle into the holes where the insulation is injected. This insulation is called dense-pack, because it requires greater air pressure and a denser application.
The third type is called wet-spray cellulose. By adding water, and sometimes a binder compound, to the dry cellulose, this enables the insulation installers to spray the insulation, so that it can stick to itself and other building components. A material that is too wet could cause the insulation to settle or fall out of place.
Save Now with Tru-Soft Cellulose Insulation Installation in South Carolina
You can start saving today with our home energy audit and insulation estimate by calling 1-888-370-6924 or visiting us online! Dr. Energy Saver serves Columbia, Summerville, Mount Pleasant, Charleston, Simpsonville, Lexington, Piedmont, Camden, Laurens, Hartsville, North Charleston, West Columbia, Goose Creek, Orangeburg, and surrounding towns and cities.