Attic Insulation Experts in Mount Pleasant and Nearby in South Carolina
Create a more comfortable, efficient home with quality attic insulation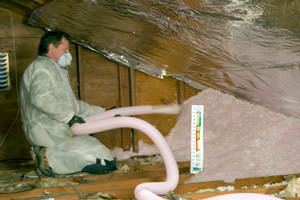 Blowing in a blanket. Blow-in (or blown) fiberglass insulation is a good choice for attic insulation. A special machine shreds the fiberglass and then blows it through an application hose.
If you're looking to improve your home's energy efficiency and comfort, attic insulation is a smart place to start. Insufficient attic insulation is one of the most common cause of energy leaks and poor performance of heating and cooling systems.
The U.S. Department of Energy recommends between R-49 and R-60 of attic insulation, but many homes in The Midlands have as little as R-19. At Dr. Energy Saver, we specialize in upgrading attic insulation with blown fiberglass and blown cellulose insulation. By installing one of these products in your home, we will raise your R-value, eliminate air leaks and other energy wasting problems, and create a more comfortable home.
If you want to improve your attic insulation, call us today at 1-888-370-6924 or contact us online. We will evaluate your home and recommend the right solution for your needs. We offer all our insulation services in Mount Pleasant, Charleston, Simpsonville, Lexington, Columbia, Summerville and throughout the surrounding areas.
Quality attic insulation materials installed in SC
At Dr. Energy Saver, we use both blown-in fiberglass and cellulose insulation for attics. Each of these materials has several benefits to your home:
Blown-in fiberglass: Shredded fiberglass insulation that is blown into the attic creates a thick layer over the existing insulation, ensuring that your home has the proper R-value.
Blown-in cellulose: Cellulose insulation is made from recycled newspaper that is treated to be fire and pest resistant. Loose fill cellulose is installed in attics to proper depth to improve R-value to correct levels.
Sealing air leaks goes together with attic insulation
Air sealing is an essential aspect of maximizing the effectiveness of attic insulation.
When your attic allows air to pass through it, your HVAC system has to work even harder to heat and cool your home. This not only wastes energy, but it also leads to uncomfortable rooms in the home. By air sealing your attic before insulation, we can ensure that your insulation will be most effective. We have two key techniques for getting the most out of your attic insulation:
Installing baffles ensures proper attic ventilation: Sized to fit between the rafters in the attic, plastic baffles maintain a ventilation space between the attic's soffit vents (located along the eaves) and the ridge vent. Installing baffles before adding more attic insulation helps avoid damage from ice dams and excess moisture.
Old insulation can be reused most of the time. As long as the existing insulation is not wet, moldy or overly compressed, it can usually be put back into place after the attic has been air-sealed and before new insulation is installed.
Upgrade your attic insulation in The Midlands today
If you have issue with the attic insulation in your home, the insulation experts at Dr. Energy Saver can help. Our experienced professionals will carefully evaluate your home and recommend the right solutions for your specific needs.
Call us today to learn more about our blown-in fiberglass and cellulose insulation options. We provide all our insulation services in Columbia, Summerville, Mount Pleasant, Charleston, Simpsonville, Lexington, Spartanburg, Florence, Sumter, Greenwood, Chapin, Aiken, North Augusta, Greenville and throughout the surrounding areas.